We created a Monster…
With the exception of our wraps, vegan chicken and a few things that make a CRUNCH our complete menu is

100% Gluten-Free

.
Garden Monsters made its premier as Portland Oregon's one and only salad food cart in early February 2013. We specialize in our own Signature Garden Monsters, entrée sized salads, made to order, exactly how you'd like it, armed with the ability to match or overpower just about any appetite. We've made it our mission to serve fresh, local, and all natural ingredients in a high spirited, quick and creative new addition to food cart dining. Feel free to take your meal on the go with the request of a Monster Wrap, or rather in our handy spill-resistant and compostable salad to-go containers.

We wish to inspire healthier eating in the fast service food industry, to prove that taste doesn't have to come deep fried, to grow and strengthen ties with the local community, and to epitomize the eco-friendly revolution. You wont find a deep fryer, microwave or freezer in our carts. We use local, 100% natural, grass-fed and organic ingredients from local resources when possible and every single to-go container, bowl, cup, lid and utensil we give you is 100% compostable setting new standards with quick service food destinations. Guilt free never tasted so good.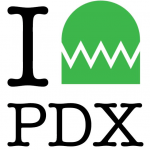 1477 NE Alberta St, Portland, Or. 97211
(971) 533-1344
Facebook.com/GardenMonsters       Twitter.com/GardenMonsters
Tue. – Sat.  11am – 8 PM, Sun. 11:30am – 5 pm, Mon. 11am – 3:30pm
We accept all debit and major credit cards